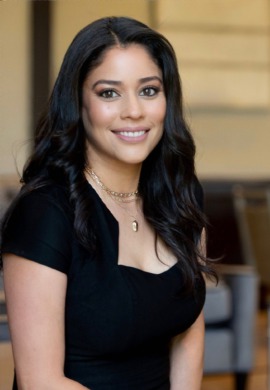 I am here to help you with all your Real Estate needs. After graduating from NSU with a BS in Business, I began my career in the Home & High-Rise Renovation Industry working directly with contractors, residential customers & designers in managing their renovation or new construction projects. Attention to detail was key to the successful completion of projects, which now I translate into Real Estate and help you find your perfect home and help you look at those details.  Let my ambition & attention to details work for you. Let me find the home that fits your needs.  
Testimonials
If I could write 3 pages of good things to say, I would. I was at first nervous with the whole process, but Yadira made the entire experience, from start to finish very convenient and wonderful. She is extremely attentive to detail, organized, knowledgeable, thoughtful and pleasant to work with! She never once forced me to do anything and laid out a game plan for my purchase. Went way above and beyond any level of service and exceeded all expectations. She is very responsive to calls, texts and emails and I never felt like I was not important at any given time. She made an effort to connect on a personal level and made sure I got the home I wanted! I would not use another agent and highly recommend her to anyone as they would not be disappointed!!
Shazard Ali
Anyone who is trying to buy a house in this market, knows how difficult it is especially if you don't have unlimited funds. Yadi helped me to find the perfect house for me. She was patient with me. She and I saw countless houses for months. She was encouraging when I wanted to give up and it seems as if I would never find a house. She was able to find me house before it went on the market. She helped me through the renovation of the house. She provided valuable support and advise. She made sure that I got the most important things that I want from this house. She is not afraid of hard work. She was always available throughout the entire process. I am so lucky that Yadi was my realtor. She got the job done in a very tough market for buyers. I am still so surprised when I think about the journey Yadi and I went through to find my house. Thank you Yadi, Gratefully, Bisi (buyer)
Olubisi Faoye
Yadi made our first time buyer experience exceptional. She explain the process step by step and kept us updated every step of the way. While searching for the right home she was patient and help us narrow down home within our qualifications and what we was looking for. She was always available by text or a phone call away, her response was almost immediately. I would definitely recommend her as your next realtor agent.
Israel Zuniga
Yadi was amazing and paid attention to every detail that I was looking for in a home. She made sure to check in and update me on the process when I was ready to make an offer. She is very knowledgeable and answered every and all questions I asked. She made the whole process painless and seamless. My daughter and I could not have been happier!!!
Andrea Goolab
First time homebuyers dream RealtorI am so pleased with the service we received from Yadira. I reached out to her about two years prior to us actually purchasing a home. I explained to her that I was a first time homebuyer and had no clue where to start. Yadira was able to give me information on prior lenders she had worked with and allowed me to choose which ever was the best fit. Yadira explained the process of purchasing a home and explained anything that I was unsure about. During the process, she was sure to be open and honest about request from sellers that may not be in our best interest. We always could count on her to get contracts written quickly and sent over to to the seller. This is very important in the market we are in today. After visiting multiple homes and making several offers, we finally found an amazing home that was everything we wanted. The timing was absolutely perfect. If you are looking for a knowledgable Realtor who is responsive, kind, and patient give her a call. Thank you Yadira for helping us find our beautiful home.
Jonteria Williams
More Testimonials