South Florida HOME to HALF of the Final Four Action!
Posted by Amanda Martin on Sunday, March 26, 2023 at 10:12:35 PM
By Amanda Martin / March 26, 2023
Comment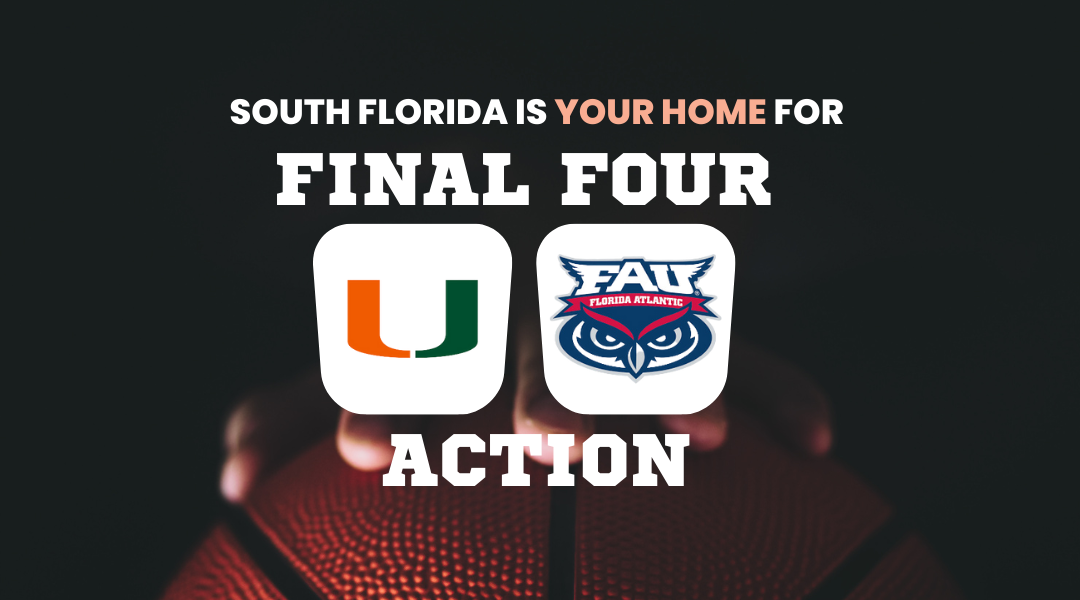 Huge congratulations are in order to TWO SOUTH FLORIDA HOME TEAMS!
The University of Miami & Florida Atlantic University Owls have advanced to the FINAL FOUR of the NCAA Tournament!
Game Times:
Florida Atlantic University v. San Diego State, Tip off 6:09pm, April 1, 2023.
University of Miami v. Univeristy of Connecticut, Tip of 8:49pm, April 1, 2023.
Want to celebrate like a local?
Stay tuned to the FAU Alumni Association Events page, where official watch parties will be announced soon.

Check out the University of Miami Alumni Association March Madness page, where they will be announcing official UM Final Four watch parties all over the country!
Making it to the Final Four is a significant achievement for a basketball team, particularly in the context of the NCAA Division I Men's Basketball Tournament, also known as "March Madness." Here are some reasons why it is considered a big deal:
Prestige and recognition: Reaching the Final Four is a testament to a team's skill, perseverance, and ability to succeed in a highly competitive environment. It brings significant attention and recognition to the team, the coaches, and the university or college they represent.

Tradition and history: The NCAA Tournament has a long and storied history dating back to 1939. Being part of the Final Four places a team among the elite group that has achieved this level of success in the past.

Competition: The NCAA Tournament features 68 teams, and making it to the Final Four means a team has survived multiple elimination rounds in a single-elimination format. This requires consistent performance, adaptability, and resilience under pressure.

Exposure and recruitment: A deep tournament run, such as making it to the Final Four, provides increased visibility and exposure for the school's basketball program. This can help with recruiting talented players and coaching staff in the future.

Fan base and school spirit: The excitement and energy surrounding the Final Four can bring together a school's community, boost school spirit, and create lasting memories for fans, students, and alumni.

Professional opportunities: Success in the NCAA Tournament can lead to increased opportunities for players and coaches in the professional basketball world, such as the NBA or international leagues.

Financial impact: A team's success in the tournament can generate significant revenue for the school through merchandise sales, ticket sales, and media rights, as well as attracting potential donors and sponsors.