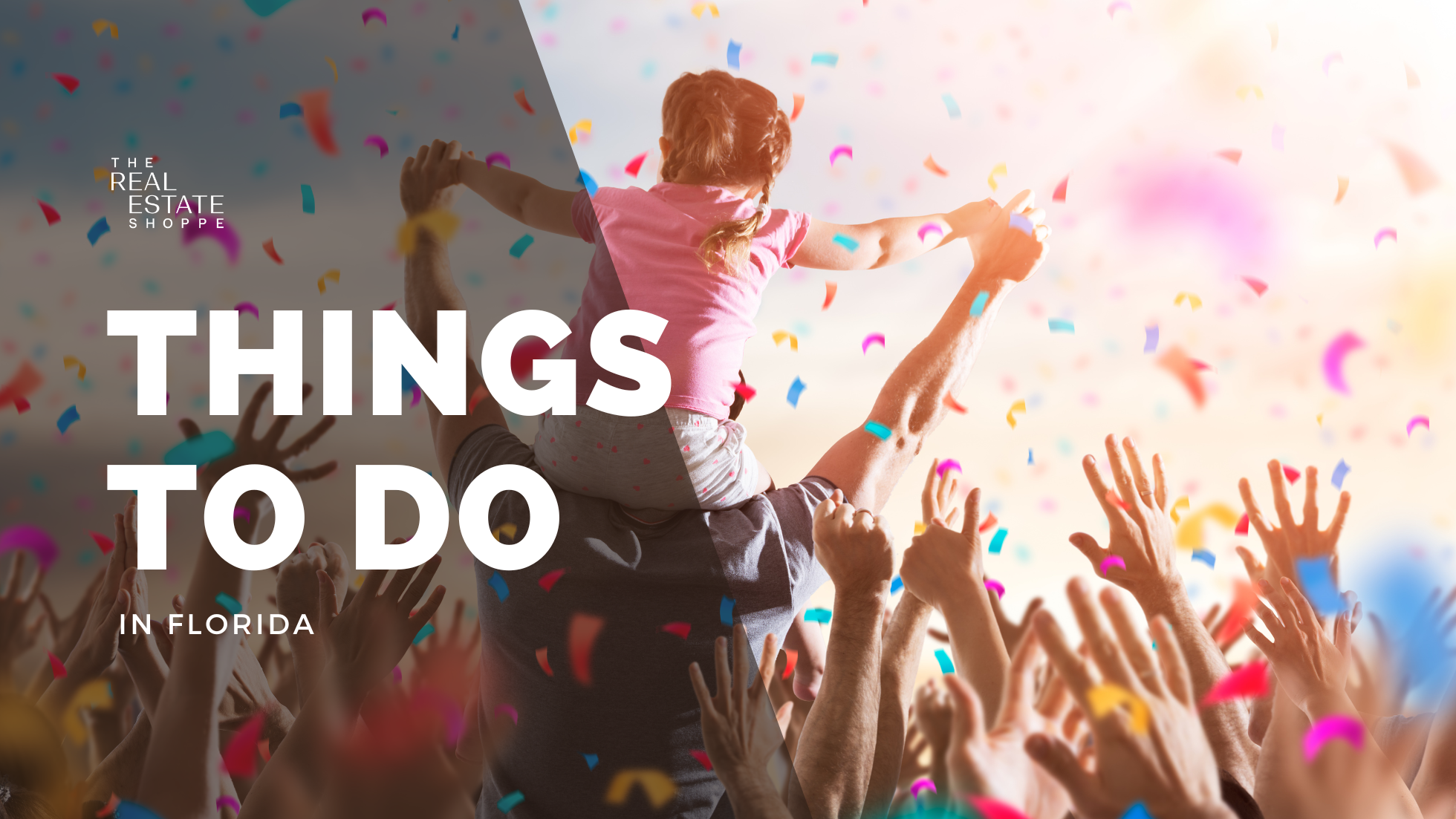 Florida is a unique place to live, work and play for many reasons! Whether in Central Florida or on the coasts - there's always something to do in your community.
Here, you'll find a list of our favorite things to do year-round, in Central Florida, Brevard County, Southeast Florida, and Southwest Florida. Whether you're on the Space Coast, in the Orlando area, enjoying the unique offerings of Miami or are visiting the shores of Fort Myers - there's something for everyone!
Please call to confirm all events before heading out.
February 2023
South Florida Area
January 2023
entertainment experience for the whole family complete with life-size dinosaurs, heroes and villains.
When & Time: Jan 14th, 15th 16th times varies see link for details.
Where: Boca Ice 900 Peninsula Corp Cir. Boca Raton, Florida
Enjoy Bumper cars on ice along with open skate.
Event Page:https://bocaice.com/?fbclid=PAAaY9booKp0kTxntmc0AiK0mBfgnd1ZFZuydO1bdaCZi2m96zyfo-gmNAOcM
Ticket info: $14.75+ at Ticketmaster.com. The beloved pop singer retired from traditional touring a few years ago but will open a seven-date mini tour of the Southeast in Sunrise
Event Page: https://foodtrucksfortlauderdale.com/food-trucks-at-volunteer-park-plantation/
---
Central Florida Area
Event Page: https://urlis.net/sv06q5k


---
December 2022
South Florida Area
100 Ft. Christmas Tree in Delray with Holiday Village- Opening Nov 29- times vary per day
Artechouse Miami Beach - 736 Collins Ave. Miami Beach, FL 33139 - Admission Starting at $25 – 1 pm-7 pm
Christmas Lights in the Acres - $10 per car – November 25 - December 30th – 11700 NW 28th Ct, Sunrise, FL 33323
This the Season for Science At The Cox Science Center And Aquarium – 4801 Dreher Trail N, West Palm Beach – Daily showtimes from November 25th - January 1st.
City of West Palm Beach's Sandi Tree Holiday In Paradise – 100 N. Clematis Street, West Palm Beach – December 1-31st
Holiday in Paradise Sandi's Pancake Breakfast with Santa & Ferris – December 17 at the Lake Pavilion, 101 S. Flagler Drive: 9 AM-12 Noon – $15pp
Holiday in Paradise Ferris Wheel – December 1-31st – $5pp single ride, $20pp all night rides – December 1-31 on the Great Lawn, 100 N. Clematis Street: 6-10 PM
Zoo Lights at the Palm Beach Zoo – Nov 18th-20 25th-27th DECEMBER 2-4, 9-11, 16-23*, 26-30 & JANUARY 1 6:00-9:00 PM – REQUIRED Timed Entry – 6-9 pm – 1301 Summit Blvd. West Palm Beach
Noon's Year Eve at Cox Science Center & Aquarium – Saturday, December 31st at 10:00 AM – 4801 Dreher Trail North, West Palm Beach
Boynton/Delray Beach Boat Parade – December 9th @ 6:30 pm – Intracoastal Waterways –Boynton Harbor Marina
Family Movie Night – The Polar Express Movie Night! – Saturday, December 17, 6-8PM – 455 NW 35th Street Suite 101, Boca Raton
48th Annual Boca Raton Holiday Boat Parade – Saturday, December 17, 2022 – Boat Parade. Boat decorated with Christmas lights – 6:30PM - 8:30PM
Light Up The Fourth Night of Chanukah – 5 – 7 p.m. on Wednesday, December 21 – 5150 Town Center Circle, Boca Raton
Nightgarden At Fairchild Tropical Botanical Garden in Miami – November 11-January 8 – 10901 Old Cutler Road, Miami
Symphony In Lights at Gulfstream Park – November 12-December 31 – 901 South Federal Highway, Hallandale Beach
Holiday Fantasy Lights at Tradewinds Park – November 23, 2022 through January 1, 2023; Open Nightly 6-10 PM – 3600 W. Sample Road, Coconut Creek
The LOOP Fort Lauderdale Turns into Wonderland – November 25-December 24 – 3000 East Las Olas Blvd., Fort Lauderdale
Noon Years Eve at Museum of Discovery & Science (MODS) – December 31 from 10:00 AM-5:00 PM; Ball drop at Noon – 401 SW 2nd Street, Fort Lauderdale
*THE POLAR EXPRESS™ Train Ride returns on Brightline – December 3rd-29th – 600 NW 1st Ave, Miami
Winterwonderville Holiday Festival at Margaritaville Hollywood Beach Resort – DECEMBER 16 – 18, 2022 – 1111 N Ocean Dr, Hollywood
Brickell City Centre Ski Chalet & Santa Ski Lift – November 25th-December 19th – 701 S Miami Ave, Miami
Central Florida Area
Mickey's Very Merry Christmas Party, Walt Disney World – Select days from November 8th to December 22nd, 2022 - SOLD OUT! MARK YOUR CALENDARS FOR 2023
ICE! at Gaylord Palms, Orlando – November 18th, 2022 – January 1st, 2023 – 6000 West Osceola Parkway Kissimmee, FL 34746
LEGOLAND Florida Christmas Bricktacular – November 25-27, and December 3-4, 10-11, 17-18, 22-31, 2022 –
Surfing Santas – December 24th, 2022 – In front of Coconuts, on Cocoa Beach.
Christmas Nights and Lights at Dezerland Park is the largest drive-thru immersive light show in Orlando. The show stretches about a mile and a half and takes about 20 to 30 minutes to go through. Those who attend can listen to the synchronized light show on the radio in their car.
Where: 5250 International Dr, Orlando
When: Now through Jan. 1; open daily from 6 p.m. to 11 p.m.
WANT TO LIVE WHERE YOU PLAY? FIND YOUR NEW HOME HERE
Homes For Sale in Fort Lauderdale
399 Properties
Address
Beds
Baths
Sq.Ft.
Price(%Chng)
$/Sq.Ft.
On Site
66 Isla Bahia Dr
Fort Lauderdale, FL 33316
6
6
5,274
$7,900,000
$1,497.91
2 days
3512 NE 27th Street
Fort Lauderdale, FL 33308
4
3
1,694
$2,495,000
$1,472.85
2 days
1541 SW 32nd Court
Fort Lauderdale, FL 33315
2
1
898
$420,000
$467.71
2 days
626 NE 17th Ter
Fort Lauderdale, FL 33304
3
2
1,482
$999,000
$674.09
2 days
2813 SW 13th Ct
Fort Lauderdale, FL 33312
3
2
1,215
$495,000
$407.41
2 days
1624 NE 7th St
Fort Lauderdale, FL 33304
3
2
2,148
$1,490,000
$693.67
3 days
3303 NW Northwest 69th Court Court
Fort Lauderdale, FL 33309
4
2
1,922
$650,000
$338.19
3 days
634 Flamingo Road
Fort Lauderdale, FL 33301
5
5
3,915
$4,350,000
$1,111.11
3 days
5144 NE 18th Terrace
Fort Lauderdale, FL 33308
5
3
2,936
$949,000
$323.23
3 days
1739 SE 11th St
Fort Lauderdale, FL 33316
7
7
8,695
$14,750,000
$1,696.38
3 days
809 NW 15th Ter
Fort Lauderdale, FL 33311
3
2
1,170
$275,000
$235.04
3 days
736 SW 12 Ave
Fort Lauderdale, FL 33315
3
2
1,575
$1,390,000
$882.54
3 days
1911 NE 62nd St
Fort Lauderdale, FL 33308
3
2
1,561
$749,900
$480.40
3 days
2412 NW 8
Fort Lauderdale, FL 33311
2
2
890
$225
$0.25
4 days
535 NW 29th Ave
Fort Lauderdale, FL 33311
3
2
1,125
$270,000
$240.00
6 days
Address Withheld
Fort Lauderdale, FL 33308
3
3
1,778
$1,900,000
$1,068.62
6 days
901 Mango Isle
Fort Lauderdale, FL 33315
3
3
1,860
$1,799,999
$967.74
6 days
1913 NE 7th Pl
Fort Lauderdale, FL 33304
3
3
1,746
$1,299,000
$743.99
6 days
1764 NE 16 St
Fort Lauderdale, FL 33305
4
3
1,973
$1,199,000
$607.70
6 days
1420 Coral Ridge Dr
Fort Lauderdale, FL 33304
3
2
2,034
$1,229,000
$604.23
6 days
2789 SW 46th Court
Fort Lauderdale, FL 33312
3
2
1,162
$455,000
$391.57
6 days
6630 NE 20th Way
Fort Lauderdale, FL 33308
3
2
1,944
$1,275,000
$655.86
7 days
3839 SW 51st St
Fort Lauderdale, FL 33312
4
3
2,350
$799,000
$340.00
7 days
2620 SW 12th Ter
Fort Lauderdale, FL 33315
2
1
844
$375,000
$444.31
7 days
1637 SE 12th Ct
Fort Lauderdale, FL 33316
7
7
7,439
$9,900,000
$1,330.82
8 days
6 Pelican Dr
Fort Lauderdale, FL 33301
6
6
10,350
$17,995,000
$1,738.65
8 days
931 NW 16th Ter
Fort Lauderdale, FL 33311
2
1
888
$199,000
$224.10
8 days
847 SW 18th Ct
Fort Lauderdale, FL 33315
3
2
1,165
$620,000
$532.19
8 days
628 SW 14th Ter
Fort Lauderdale, FL 33312
2
1
1,000
$579,000
$579.00
8 days
2742 NW 6th Ct
Fort Lauderdale, FL 33311
3
2
960
$335,000
$348.96
8 days
2407 Sugarloaf Lane
Fort Lauderdale, FL 33312
3
2
2,270
$865,000
$381.06
9 days
5221 NE 20th Ave
Fort Lauderdale, FL 33308
4
3
2,333
$1,300,000

9.2%

$557.22
9 days
708 SW 12 Street
Fort Lauderdale, FL 33315
2
2
1,585
$550,000
$347.00
9 days
1208 2nd St
Fort Lauderdale, FL 33301
4
5
4,670
$2,750,000
$588.87
10 days
1621 SE 2nd St
Fort Lauderdale, FL 33301
3
2
1,711
$1,895,000
$1,107.54
10 days
2888 NE 35th St
Fort Lauderdale, FL 33306
5
5
3,537
$3,250,000
$918.86
10 days
2910 SW 16th St
Fort Lauderdale, FL 33312
3
2
1,364
$545,000
$399.56
10 days
3061 NE 42nd St
Fort Lauderdale, FL 33308
4
3
2,734
$2,199,999
$804.68
10 days
311 NW 28th Way
Fort Lauderdale, FL 33311
3
2
1,267
$425,000
$335.44
10 days
1101 SE 9th St
Fort Lauderdale, FL 33316
4
5
3,673
$2,850,000
$775.93
12 days
2312 Coral Ridge View Drive
Fort Lauderdale, FL 33308
5
6
6,148
$7,498,000
$1,219.58
13 days
2625 NE 26th Ter
Fort Lauderdale, FL 33306
3
2
1,901
$1,379,900
$725.88
13 days
2786 E Marina Dr
Fort Lauderdale, FL 33312
2
1
876
$219,900
$251.03
13 days
2717 NE 26th Ter
Fort Lauderdale, FL 33306
3
3
2,191
$1,400,000
$638.98
13 days
911 Arizona Ave
Fort Lauderdale, FL 33312
4
3
1,918
$564,990
$294.57
13 days
3512 Riverland Road
Fort Lauderdale, FL 33312
3
3
1,798
$1,399,000
$778.09
13 days
1227 NW 15th Ave
Fort Lauderdale, FL 33311
5
2
1,314
$374,000
$284.63
14 days
1300 SW 18th Ct
Fort Lauderdale, FL 33315
3
2
1,631
$895,000
$548.74
14 days
414 Royal Plaza Dr
Fort Lauderdale, FL 33301
5
7
5,773
$8,900,000
$1,541.66
14 days
1527 NW 11th Pl
Fort Lauderdale, FL 33311
3
1
936
$364,900

-1.4%

$389.85
15 days
Homes for Sale in Orlando
February 8, 2023