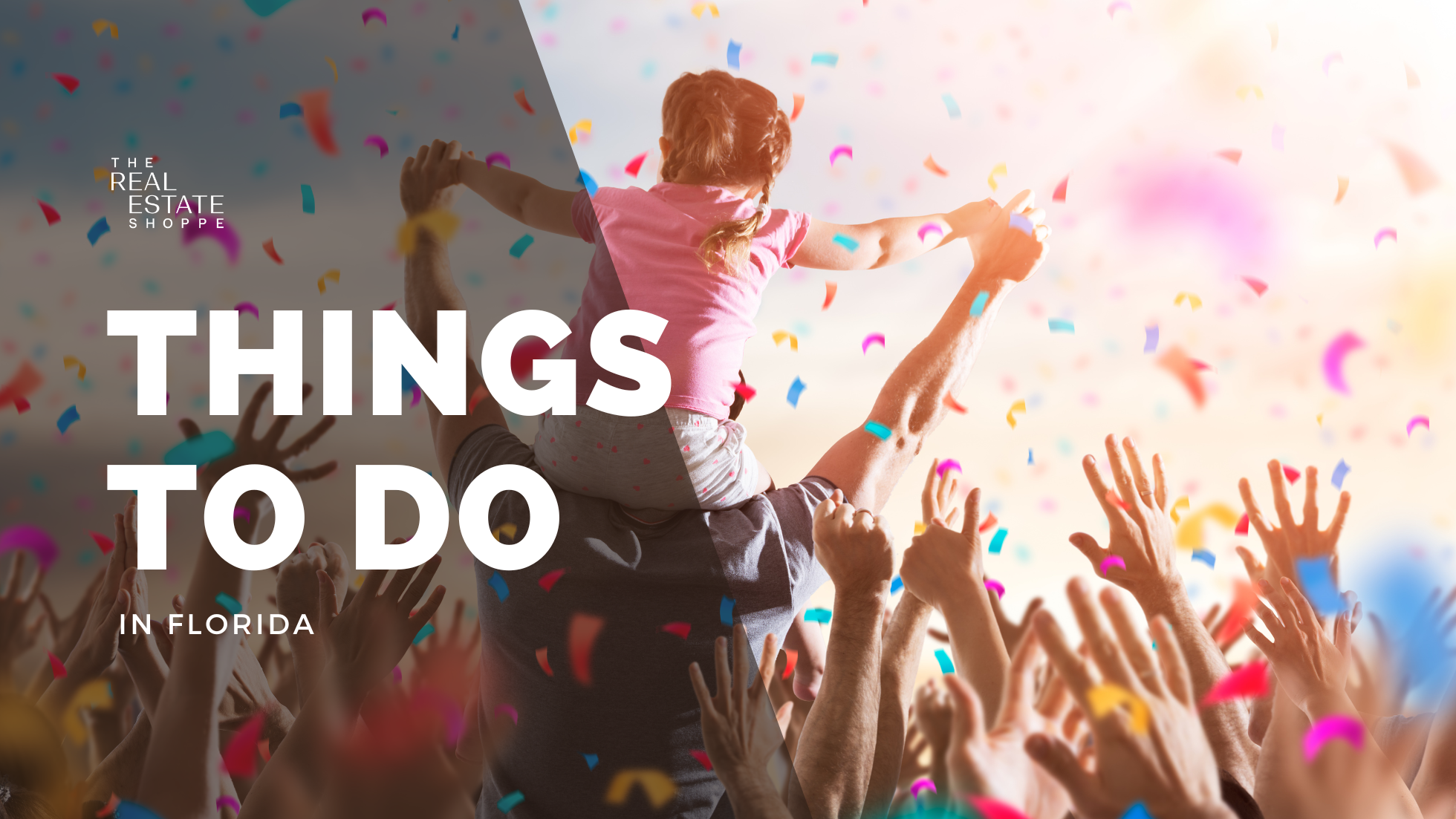 Florida is a unique place to live, work and play for many reasons! Whether in Central Florida or on the coasts - there's always something to do in your community.
Here, you'll find a list of our favorite things to do year-round, in Central Florida, Brevard County, Southeast Florida, and Southwest Florida. Whether you're on the Space Coast, in the Orlando area, enjoying the unique offerings of Miami or are visiting the shores of Fort Myers - there's something for everyone!
Please call to confirm all events before heading out.
December 2023
---
November 2023
Event Link:https://www.delraybeachfl.gov/Home/Components/Calendar/Event/1860/
Event Link: https://www.cityofparkland.org/329/Farmers-Market
---
October 2023
---
September 2023
August 2023
Teacher will demonstrate & give clear directions with posture modifications for all levels & newbies to enjoy.This is a beautiful wide open beach, with a cool vibe & inviting environment.
---
Enjoy: Join us for a fun night out at Pine Trails Park - PREC including emergency vehicle displays, music, and food. Meet your school resource officers for the upcoming school year and learn about programs and activities offered at the Parkland Recreation and Enrichment Center.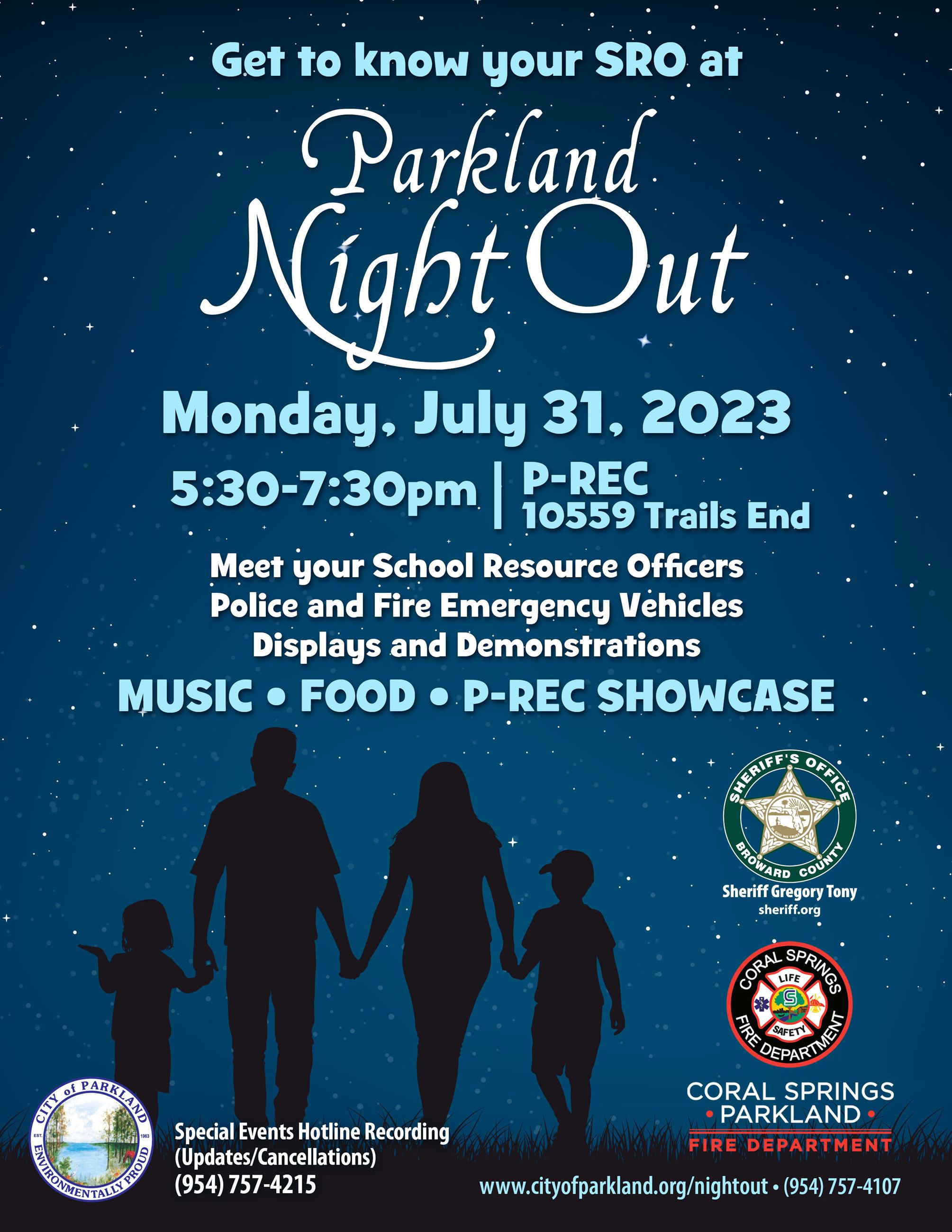 Where: Amphitheatre - Pine Trails Park 10561 Trails End, Parkland FL 33076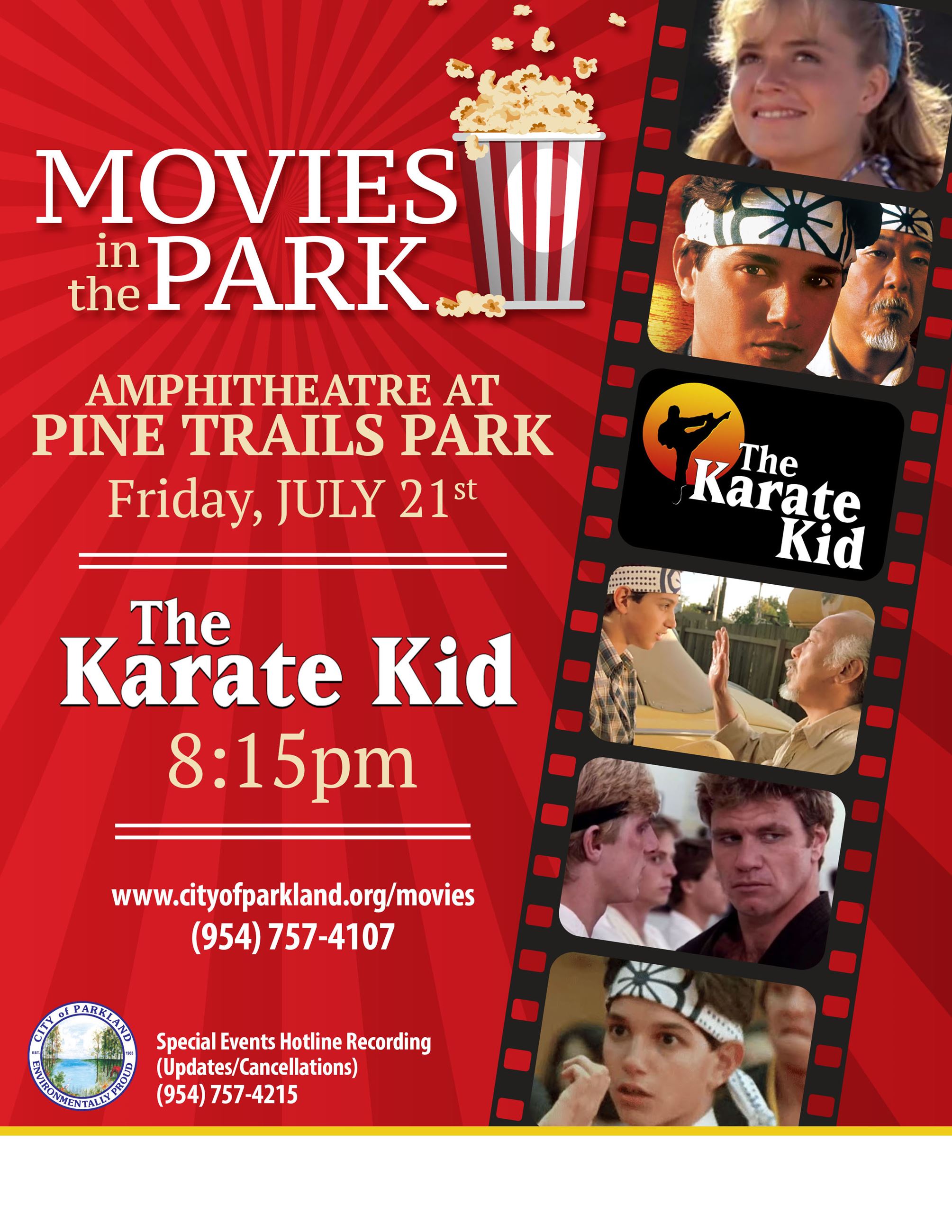 June 2023
Where: Amphitheatre - Pine Trails Park 10561 Trails End, Parkland FL 33076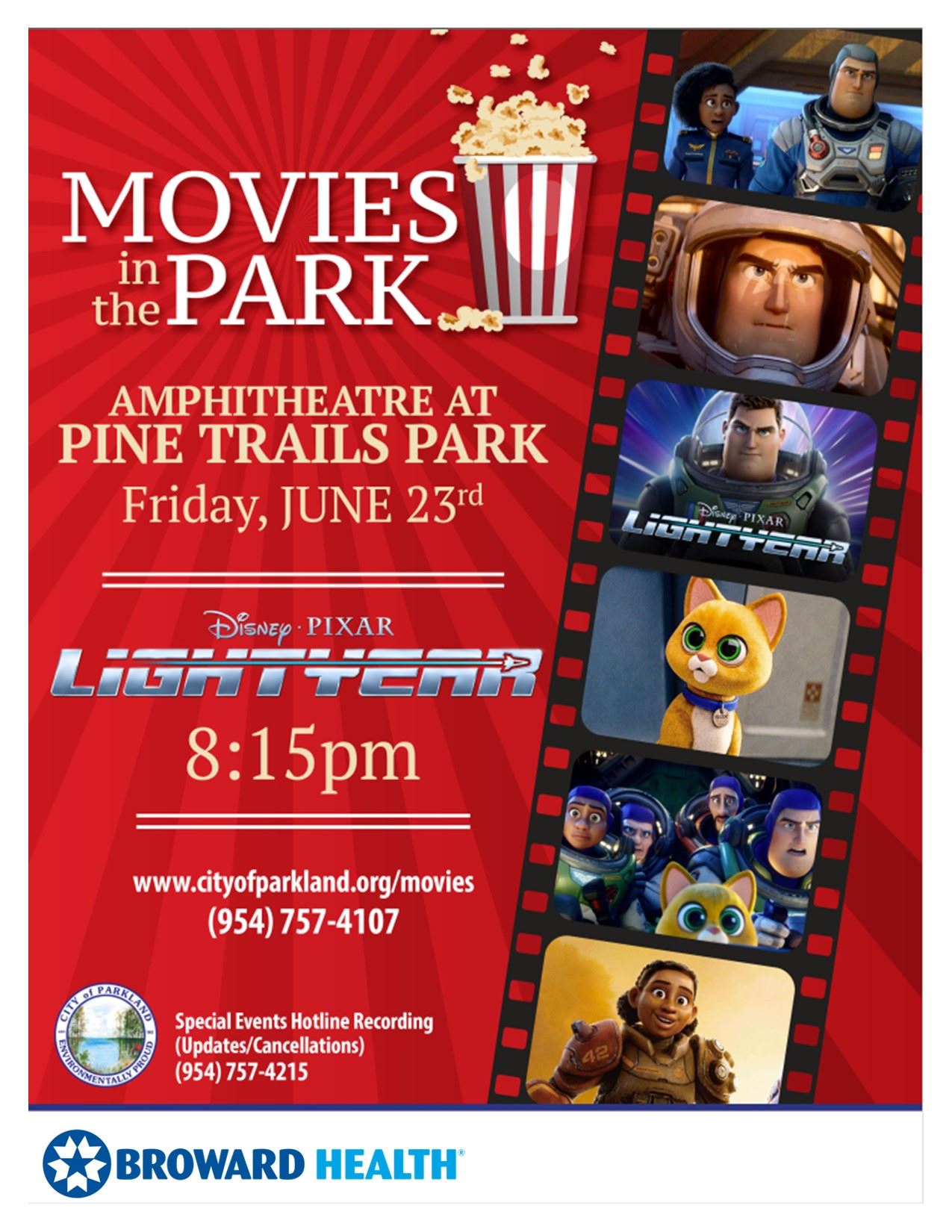 ---
Event: Memorial Day Ceremony at the Pine Trails Park Amphitheatre
Event Link: https://www.visitlauderdale.com/event/music-under-the-stars/38195/
Event: City of Parkland Eats & Beats
The program kicks off around 11:45am and the show runs until about 3:00pm (give or take 30 minutes, depending on time between flights).
Event: 20th Annual Green Market Pompano Beach
When & Time: April 8, 9am to 1pm
Where: Pompano Beach Cultural Center, 50 West Atlantic Boulevard Pompano Beach
Enjoy: The Green Market Pompano Beach is presented by the Pompano Beach Historical Society in partnership with the City of Pompano Beach and occurs every November – April on the second and fourth Saturday of each month from 9 am – 1 pm. We are committed to providing the community with the best and freshest fruits and vegetables, juices, baked goods, seafood and other food items, as well as orchids, plants, and health-related products and services. Visitors will also find hand-made crafts, art and culinary products at the Market. Each Green Market date will have a different theme, creating unique and exciting experience every time you visit!
Event Link: https://www.eventbrite.com/e/green-market-pompano-beach-2023-tickets-424192801087?aff=erelexpmlt
Event: City of Plantation Royal Easter Egg Hunt
When & Time: April 8, 10am to 1pm
Where: Pop Travers Field
Enjoy: Sponsored by the City of Plantation and the GFWC Plantation Womens Club, this egg hunt begins at 10am Sharp! Meet the Easter Bunny, and enjoy inflatables, arts and crats and games. There'll be food for purchase and fun for the whole family.
Event: Family Farms Easter Egg Hunt
When & Time: April 6-9, varying times
Where: 14950 sw 14th St, Davie, FL 33326
Enjoy: Visit FamilyFarmsOnline.com to see the egg hunt times by age! Baskets will be available for purchase and get your photo with the Easter Bunny! $10 per child to participate.
Event: Festival of Colors Florida - a conscious celebration, inspired by Holi!
When & Time: April 8, 11am to 4pm
Where: Esplanade Park, 400 SW 2nd Street Fort Lauderdale, FL 33312
Enjoy: Unleash your vibrant spirit and join us for a celebration of love, life, and color at our inaugural Festival of Colors in Florida! Beloved by tens of thousands of conscious partiers for more than two decades, Festival of Colors has become a hotly anticipated tradition across the western United States, billed as the "world's happiest transformational event!" For the first time ever, it's coming to South Florida at Esplanade Park in beautiful downtown Ft. Lauderdale! In honor of the Indian festival of Holi, we'll toss vibrant hues into the air HOURLY in a display of divine affection.
Event Link: Click here

Event: NIGHTCAP: An Intimate Evening With Captain Lee
When & Time: April 6, 8pm-930pm
Where: DAER Nightclub, 1 Lucky Street, Davie
Enjoy: NIGHTCAP: For one night only, experience Captain Lee after dark as he sips cocktails, shares never before heard stories, and dishes behind-the-scenes scoop inside DAER Nightclub at the Hard Rock Hotel Seminole, Fla. For $175, VIP tix include: Premiere seating, two drinks , Captain Lee meet & greet, and access to VIP after party at DAYCLUB at the Hard Rock Hotel. Doors open 7:30pm. Must be 21+ to attend.
Event Link: click here
Aero Experience and more... Admission is FREE S. Bring your chairs! Food, beverages and memorabilia will be available for purchase.
Food trucks & Live Music and more!
Enjoy: Spring break is just around the corner, so here is anohter fun and free activity to enjoy with family and friends.
Event Link: https://www.ocfl.net/CultureParks/FeaturedParkEvents.aspx#.ZAsjPi-B1ES
---
March 2023
February 2023
January 2023
entertainment experience for the whole family complete with life-size dinosaurs, heroes and villains.
When & Time: Jan 14th, 15th 16th times varies see link for details.
Where: Boca Ice 900 Peninsula Corp Cir. Boca Raton, Florida
Enjoy Bumper cars on ice along with open skate.
Event Page:https://bocaice.com/?fbclid=PAAaY9booKp0kTxntmc0AiK0mBfgnd1ZFZuydO1bdaCZi2m96zyfo-gmNAOcM
Ticket info: $14.75+ at Ticketmaster.com. The beloved pop singer retired from traditional touring a few years ago but will open a seven-date mini tour of the Southeast in Sunrise
Event Page: https://foodtrucksfortlauderdale.com/food-trucks-at-volunteer-park-plantation/
---
Central Florida Area
Relax and unwind at Orlando's premiere networking event, enjoy mouthwatering BBQ, a fine selection of beer, wine and spirits, and live music nestled on the plush lawn of Luminary Green Park at Creative Village.
Event Page: https://urlis.net/sv06q5k


---
December 2022
South Florida Area
100 Ft. Christmas Tree in Delray with Holiday Village- Opening Nov 29- times vary per day
Artechouse Miami Beach - 736 Collins Ave. Miami Beach, FL 33139 - Admission Starting at $25 – 1 pm-7 pm
Christmas Lights in the Acres - $10 per car – November 25 - December 30th – 11700 NW 28th Ct, Sunrise, FL 33323
This the Season for Science At The Cox Science Center And Aquarium – 4801 Dreher Trail N, West Palm Beach – Daily showtimes from November 25th - January 1st.
City of West Palm Beach's Sandi Tree Holiday In Paradise – 100 N. Clematis Street, West Palm Beach – December 1-31st
Holiday in Paradise Sandi's Pancake Breakfast with Santa & Ferris – December 17 at the Lake Pavilion, 101 S. Flagler Drive: 9 AM-12 Noon – $15pp
Holiday in Paradise Ferris Wheel – December 1-31st – $5pp single ride, $20pp all night rides – December 1-31 on the Great Lawn, 100 N. Clematis Street: 6-10 PM
Zoo Lights at the Palm Beach Zoo – Nov 18th-20 25th-27th DECEMBER 2-4, 9-11, 16-23*, 26-30 & JANUARY 1 6:00-9:00 PM – REQUIRED Timed Entry – 6-9 pm – 1301 Summit Blvd. West Palm Beach
Noon's Year Eve at Cox Science Center & Aquarium – Saturday, December 31st at 10:00 AM – 4801 Dreher Trail North, West Palm Beach
Boynton/Delray Beach Boat Parade – December 9th @ 6:30 pm – Intracoastal Waterways –Boynton Harbor Marina
Family Movie Night – The Polar Express Movie Night! – Saturday, December 17, 6-8PM – 455 NW 35th Street Suite 101, Boca Raton
48th Annual Boca Raton Holiday Boat Parade – Saturday, December 17, 2022 – Boat Parade. Boat decorated with Christmas lights – 6:30PM - 8:30PM
Light Up The Fourth Night of Chanukah – 5 – 7 p.m. on Wednesday, December 21 – 5150 Town Center Circle, Boca Raton
Nightgarden At Fairchild Tropical Botanical Garden in Miami – November 11-January 8 – 10901 Old Cutler Road, Miami
Symphony In Lights at Gulfstream Park – November 12-December 31 – 901 South Federal Highway, Hallandale Beach
Holiday Fantasy Lights at Tradewinds Park – November 23, 2022 through January 1, 2023; Open Nightly 6-10 PM – 3600 W. Sample Road, Coconut Creek
The LOOP Fort Lauderdale Turns into Wonderland – November 25-December 24 – 3000 East Las Olas Blvd., Fort Lauderdale
Noon Years Eve at Museum of Discovery & Science (MODS) – December 31 from 10:00 AM-5:00 PM; Ball drop at Noon – 401 SW 2nd Street, Fort Lauderdale
*THE POLAR EXPRESS™ Train Ride returns on Brightline – December 3rd-29th – 600 NW 1st Ave, Miami
Winterwonderville Holiday Festival at Margaritaville Hollywood Beach Resort – DECEMBER 16 – 18, 2022 – 1111 N Ocean Dr, Hollywood
Brickell City Centre Ski Chalet & Santa Ski Lift – November 25th-December 19th – 701 S Miami Ave, Miami
Central Florida Area
Mickey's Very Merry Christmas Party, Walt Disney World – Select days from November 8th to December 22nd, 2022 - SOLD OUT! MARK YOUR CALENDARS FOR 2023
ICE! at Gaylord Palms, Orlando – November 18th, 2022 – January 1st, 2023 – 6000 West Osceola Parkway Kissimmee, FL 34746
LEGOLAND Florida Christmas Bricktacular – November 25-27, and December 3-4, 10-11, 17-18, 22-31, 2022 –
Surfing Santas – December 24th, 2022 – In front of Coconuts, on Cocoa Beach.
Christmas Nights and Lights at Dezerland Park is the largest drive-thru immersive light show in Orlando. The show stretches about a mile and a half and takes about 20 to 30 minutes to go through. Those who attend can listen to the synchronized light show on the radio in their car.
Where: 5250 International Dr, Orlando
When: Now through Jan. 1; open daily from 6 p.m. to 11 p.m.
WANT TO LIVE WHERE YOU PLAY? FIND YOUR NEW HOME HERE
Homes For Sale in Fort Lauderdale
465 Properties
Address
Beds
Baths
Sq.Ft.
Price(%Chng)
$/Sq.Ft.
On Site
41 Compass Ln
Fort Lauderdale, FL 33308
4
6
5,086
$9,575,000
$1,882.62
1 day
1201 SE 13th Ter
Fort Lauderdale, FL 33316
2
2
1,916
$1,300,000
$678.50
2 days
4725 NE 25th Ave
Fort Lauderdale, FL 33308
4
5
4,212
$3,950,000
$937.80
2 days
1851 NE 46th St
Fort Lauderdale, FL 33308
4
3
2,236
$790,000
$353.31
2 days
1478 NE 57th Ct
Fort Lauderdale, FL 33334
3
2
1,907
$1,197,000
$627.69
2 days
3312 NE 16th Ct
Fort Lauderdale, FL 33305
--
--
3,364
$1,595,000
$474.14
2 days
5301 SW 22nd Ter
Fort Lauderdale, FL 33312
3
2
1,368
$279,900
$204.61
3 days
3015 SW 2nd St
Fort Lauderdale, FL 33312
4
2
1,257
$399,990
$318.21
3 days
91 Fiesta Way
Fort Lauderdale, FL 33301
6
8
6,140
$8,495,000
$1,383.55
3 days
1736 NW 7th Ave
Fort Lauderdale, FL 33311
3
2
996
$379,000
$380.52
3 days
1510 NE 57th Ct
Fort Lauderdale, FL 33334
4
3
3,115
$1,145,000
$367.58
3 days
1913 NE 7th Pl
Fort Lauderdale, FL 33304
3
3
1,520
$1,585,000
$1,042.76
3 days
321 San Marco Drive
Fort Lauderdale, FL 33301
6
7
5,744
$6,500,000
$1,131.62
4 days
316 SW 12 Ave
Fort Lauderdale, FL 33312
3
2
1,506
$799,000
$530.54
4 days
2801 NE 20th Ct
Fort Lauderdale, FL 33305
5
7
5,252
$4,800,000
$913.94
4 days
1446 SW 23rd Street
Fort Lauderdale, FL 33315
4
4
2,738
$1,225,000
$447.41
4 days
1650 NE 60th St
Fort Lauderdale, FL 33334
2
2
1,576
$829,000
$526.02
4 days
51 Isla Bahia Dr
Fort Lauderdale, FL 33316
6
8
--
$21,900,000
--
5 days
6541 NW 33 Way
Fort Lauderdale, FL 33309
3
2
1,564
$519,000
$331.84
5 days
120 NW 27th Ter
Fort Lauderdale, FL 33311
3
2
864
$289,000
$334.49
5 days
3231 Auburn Blvd
Fort Lauderdale, FL 33312
4
2
1,245
$415,000
$333.33
5 days
5421 NE 15th Ave
Fort Lauderdale, FL 33334
2
2
1,270
$875,000
$688.98
5 days
1428 Middle River Dr
Fort Lauderdale, FL 33304
4
5
4,349
$3,995,000
$918.60
5 days
2181 SW 28th Ter
Fort Lauderdale, FL 33312
2
3
2,750
$1,089,000
$396.00
5 days
2309 NW 14th Ct
Fort Lauderdale, FL 33311
3
2
994
$349,000
$351.11
7 days
26 S Compass Dr
Fort Lauderdale, FL 33308
6
8
--
$8,995,000
--
7 days
1710 SW 36th Ave
Fort Lauderdale, FL 33312
3
2
1,391
$399,000
$286.84
7 days
1335 Seminole Dr Drive #1335
Fort Lauderdale, FL 33304
5
7
6,627
$6,495,000
$980.08
7 days
827 NW 27th Terrace
Fort Lauderdale, FL 33311
7
4
2,127
$750,000
$352.61
8 days
1720 NE 9th Ave
Fort Lauderdale, FL 33305
3
2
2,782
$775,000
$278.58
8 days
1528 NW 7th Ter
Fort Lauderdale, FL 33311
3
2
1,505
$850,000
$564.78
8 days
540 SW 10th Ave
Fort Lauderdale, FL 33312
3
2
1,908
$1,150,000
$602.73
8 days
23 Isla Bahia Dr
Fort Lauderdale, FL 33316
6
9
10,209
$33,900,000
$3,320.60
8 days
4534 W Pinehurst Trail
Fort Lauderdale, FL 33309
4
3
2,914
$820,000
$281.40
9 days
1516 NW 5th Avenue
Fort Lauderdale, FL 33311
3
2
1,003
$449,999
$448.65
9 days
2516 Delmar Pl
Fort Lauderdale, FL 33301
4
6
4,689
$4,495,000
$958.63
9 days
5290 NE 18th Ave
Fort Lauderdale, FL 33334
3
2
1,471
$710,000
$482.66
9 days
3013 NW 68th St #10E
Fort Lauderdale, FL 33309
3
2
1,170
$309,990
$264.95
10 days
2641 NE 26th Terrace
Fort Lauderdale, FL 33306
2
2
1,380
$1,350,000
$978.26
10 days
5451 SW 27th Ter
Fort Lauderdale, FL 33312
3
2
1,632
$389,000
$238.36
10 days
1051 NW 25th Way
Fort Lauderdale, FL 33311
3
2
1,020
$360,000
$352.94
10 days
304 W Park Drive
Fort Lauderdale, FL 33315
2
2
1,245
$629,000
$505.22
10 days
5950 NE 28 Avenue
Fort Lauderdale, FL 33308
4
3
1,934
$1,149,000
$594.11
10 days
505 N Fort Lauderdale Beach Boulevard #2510
Fort Lauderdale, FL 33304
1
1
533
$288,000
$540.34
10 days
1412 NE 18th Ave
Fort Lauderdale, FL 33304
3
2
1,833
$1,080,000
$589.20
10 days
2708 NE 25th Ct
Fort Lauderdale, FL 33305
4
6
4,046
$4,000,000
$988.63
10 days
1620 NW 7th Ter
Fort Lauderdale, FL 33311
3
2
1,183
$689,000
$582.42
10 days
1759 SE 10th Street
Fort Lauderdale, FL 33316
4
5
4,692
$5,750,000
$1,225.49
10 days
2 Fiesta Way
Fort Lauderdale, FL 33301
6
8
5,926
$10,995,000
$1,855.38
10 days
2817 NE 35th St
Fort Lauderdale, FL 33306
6
7
5,387
$6,995,000
$1,298.50
10 days
Homes for Sale in Orlando
December 8, 2023